Helicopter Training Financial Aid
Helicopter Academy flight training programs offer a wide variety pilot financial aid options to help you attend our flight school
Helicopter Academy has a dedicated financial aid staff to help you pursue your dreams of becoming a Helicopter pilot. By working with a number of financial aid institutions we provide students with their best financial option. We also help offset the cost of your helicopter school training by providing free housing in beautiful South Florida.
You have a passion for aviation and want to become a professional Helicopter pilot but are not sure if you can afford the cost of a flight school training program. Helicopter training that will take you from 0 to 300 hours and a job with Helicopter Academy costs about $81,750. If you do not have $81,750 we can help you find financial aid.
Flight Training and Pilot School Loans
Helicopter Academy has teamed up with We Florida Financial We fly's Learn to Fly program to offer aviation training loans for up to $30,000, for those that qualify.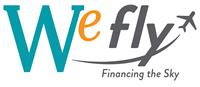 We fly's Learn to Fly program makes achieving your aviation training goals easy and affordable. Pilot school loans provide a fixed-rate line of credit from $5,000 to $30,000. Access your line of credit and transfer funds to your checking account Online, reducing time and stress managing receipts, faxes and wire transfers.
A line of credit will allow the student to pay the flight school directly and to attend any flight school they desire.
This is not a student loan! We fly's Flight Training Loan is a more flexible option as you can use the loan at your local flight school. Traditional aviation student loans are generally only available for 4-year university degree programs.
Learn to Fly Program Overview:
Unsecured Loans range $5,000-$30,000
Applicant and co-signer must be US citizen/Permanent Resident
Line of credit loan – only make payments and interest based on the amount you use, not the amount you are approved for
72 month term – payments start once a balance is pulled from the line of credit
No pre-payment penalties
Can be used for any flight training and school
Student pays school directly
Applications can be submitted Online at www.WeFloridaFinancial.com/WeFly and we usually have a decision within 24 hours
Please fill out the financial aid application or call 561-346-2816 (Call or text) for more details.